It is an absolutely gorgeous, stunning, perfect day here in New York. It is a day of growth and new beginnings; of serenity and prosperity. Nothing – I repeat:
nothing
– is going to get me down on this glorious, glorious day. So fuck off.
I spent the last few days on the island of Exhaustion, just off the coast of Nervous Breakdown. (It looked cuter in the brochure.) This past weekend was my big move, and after an arduous few days of packing and throwing and schlepping and crying (and turning and reaching and waking and dying)...I am finally in the new place! Thank you all for your support, and in advance for the congratulatory bottles of wine and checks made out to Cash. I look forward to receiving them. I snapped a few press shots on my cell phone that I should like to share with you now. Won't you join me on this brief guided tour presented by AT&T?...
If you'll look straight ahead you will see the front door and generous foyer, stretching an estimated six-and-a-half miles, and expanding into the adorable little kitchen area (not photographed for contractual reasons) complete with Frigidaire, stylish new cabinetry, and state-of-the-art stove; perfect for collecting dust and storing piles of take-out menus. (Mummy don't cook.) The brown speck you might notice to the right of that second window is some schmutz on my phone, and is not actually featured in the apartment.
Just through this archway you'll find the darling little living room area, and one of many windows which floods the place with sunlight on those three or four days a year when we get some. Beyond that, you'll notice my gracious fire escape; perfect for housing a few lovely potted Hydrangeas this spring, enjoying a cool cocktail on those hot summer nights, or escaping the noxious fumes of a deadly fire.
If you'll now turn slightly to your right, you'll see my charming bedroom area and – look at that – it's my brand new bed, Ladies and Gentlemen! (There's usually MUCH more action going on in this part of the house. Honest.) Moving on...
Now, one more right turn and you'll see my little closet (right) and the door to my absolutely stunning, pristine bathroom (left), conveniently located within walking distance from the bedroom area, for those cold lonely nights when I wake up after having a few too many and don't feel like going on myself. I mean, who designed this place?? Sheer genius.
This concludes the guided tour. Please gather all personal belongings, take small children by the hand and enjoy the rest of your day.
Gracias por llegada. Ahora por favor salga.....A-T-ahn'-T
I've been so excited to begin decorating, as I feel this is the perfect little fixer-upper and has the potential to be as gorgeous as he who inhabits it. I have a very specific idea in my head of what I want it to look like. I see calm, soothing, earthy tones; utter tranquility but with a kick. Very Manhattan-contempo; very sophisticate-homo; very William Sano'mo. Ya know? Very "Carrie Bradshaw with bawllz". I've been shopping around online for the perfect duvet and pillows for the bed, but have always been reluctant to actually purchase anything online without first being able to see it in person, touch it, smell it, taste it, and try it on with both daytime and evening hair/makeup. (
Especially
bedding.) In my experience, nothing you find on the web EVER arrives at your door looking as gorgeous as it did online. (Boys and bed linens included. And frankly, I'd sooner forgive the boys. They're usually only on your bed for a few hours. Expensive sheets could be there for years, no?)
My suspicions proved well-founded recently when I selected what I thought was the perfect bed ensamb from the website of CB2 (Crate and Barrel's younger, sluttier sister). It looked something like this...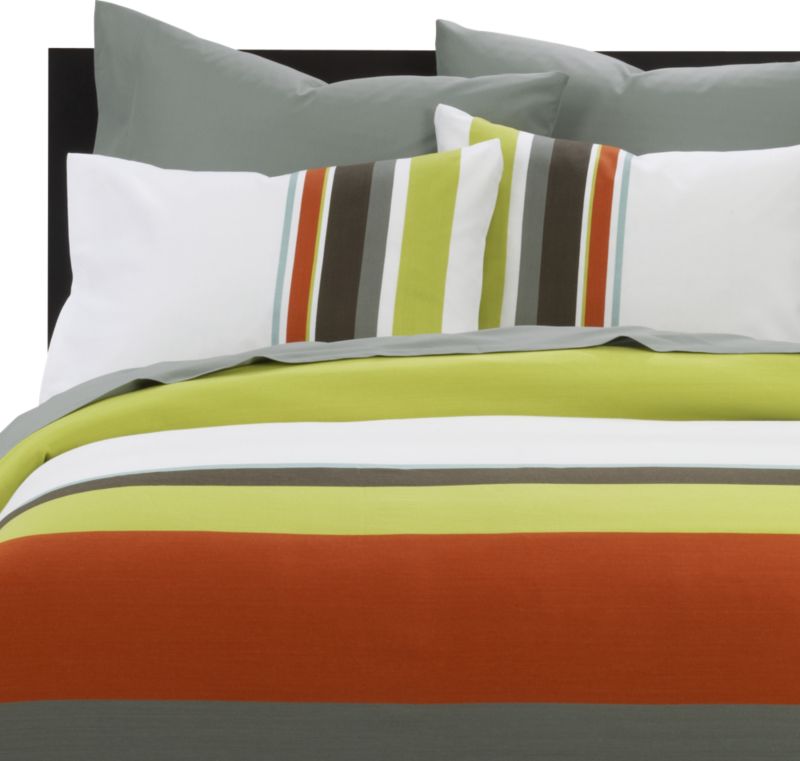 I enjoyed this. While it's colorful, it seemed to at the same time be sort of earthy and adult and somewhat muted. I was further convinced by the description given by CB2, which used words like "moss" and "storm grey" and "dirt", or whatever the hell they said. It sounded earthy to me. I came inches from trying my luck and making the online purchase, but decided instead to take myself down to SoHo and check it first. And it's a damn good thing I did. In person, it looked like this...
Just not at all what I hoped to find. (To be fair, the above may be a slight exaggeration, but VERY slight.) Aside from being much brighter than it appeared in the photo, it was displayed as though it had be made with rebellious, methamphetamine-addicted teenagers in mind; Fake graffiti spray-painted on the cardboard wall behind it, neon-orange furniture surrounding it, flashing red lights to enhance its gaudiness, and a hooker doing blow off the headboard. It was simply not the elegance and refinement my sophisticated ass is trying to convey. So back to the drawing board I go. If anyone has any bright ideas (not too bright!) or works for Oprah's design team, or is Oprah, please reach out and touch me nice.
In other news: I will have the great honor of interviewing the fabulous
Julie Halston
this weekend for HX Magazine. For those unfamiliar with the greatness, Julie has been seen on Broadway in
Hairspray
,
Gypsy
(with Bernadette Peters),
The Women
, and
Charles Busch & Julie Halston Together on Broadway
, to name but a few. She also starred as Tina Carmello on CBS's
The Class
, and most of you will probably remember her as Bitsy Von Muffling, New York socialite and Nathan Lane's beard, on
Sex and the City
(a role she'll be reprising in the movie this May.) We'll be chatting about such fun things as well as her new book,
Monologues For Show-Offs
. In the midst of setting up this interview last week, Julie left me just about THEE funniest voicemail, entirely as Little Edie Beale. It is saved forever, and if I can get her to sign the release this weekend I will be burning it to disc and selling it as a single. She's so funny I could vomit. Stay tuned for the interview!