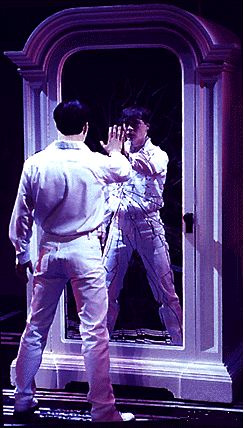 Last night was the
Friends with Benefits
concert, which ended up raising a few thousand smackers for Broadway Cares. Congratulations to all those who participated! The event showcased the phenomenal talents of cast members from
Young Frankenstein
,
The Little Mermaid
,
Spamalot
,
Mamma Mia
and
Spring Awakening
, including that show's star (and Broadway's brightest buttocks),
Jonathan Groff
, who opened his set with the theme song from "Saved By The Bell" - No kidding. But I think the real star of the evening was my straw'bree margarita. And lucky for me, it gave six encores. Tremendous.
After the show, still basking in the afterglow of those last two encores, and under the persuasive forces of a dear friend, who I will certainly not embarrass by revealing here on a national broadcast (
call me later and I'll totally tell you
), I hopped online and signed myself up to absolutely the most ridiculous website (EVER), called
CrazyBlindDate.com
, hoping to add a liiiittle more aggravation and humiliation to my life and to waste just a bit more of my precious time on this planet. In case you haven't caught on, the idea is that the site fixes up local singles on blind dates, based on their locations and personal preferences. (How horrifying??) Upon enrollment, you are asked to complete a lengthy survey, first about yourself and then about the gorgeous supermodel you are hoping to meet. Once you're all set up, the yentas behind the magic at CrazyBlindDate.com begin matching their matches and catching their catches, and send you out to begin meeting your matches and catching...God only knows what.
I've set my starting-off mark at this coming Thursday (so I'd have a few days to digest the idea of this self-immolation), at which time I will begin receiving email notifications telling me when and where to meet my mystery guests. And the alerts can come as late as fifteen minutes prior to a date, which leaves very little time for common pre-date rituals like buying a new blouse, dropping six pounds, or collagen injections.
Having tinkered a bit with online dating in this technological and narcissistic age of MySpace and other networking sites where everyone prominently displays thousands of pictures of themselves, I've become spoiled by the luxury of seeing prospective dates photographed from every angle; in every room of the house; in casual day looks, formal evening attire, and swimwear - all before we've even exchanged phone numbers. It barely occurred to me to take the physical out of the equation altogether and meet someone based exclusively on their goals and aspirations; their interests, morals and intelligence. Does that make me superficial? Or just really attractive?
("Are you there God?..It's me, Faggret.")
Anyway, as traumatic as this all sounds, I can't help but think it might actually be a lot of fun. (That, or I'll be murdered at Starbucks.) Plus, I'm going through a "try everything once" phase now. I mean I'm a 26 year old gay man living New York City, and I'm not getting any younger (despite what you might guess by the flawless skin.) I feel I'm reaching a time in my life for me to finally meet my special someone, fall in love, not get married, not have children and continue dating other people. You know...settle down. My homological clock is tickin'!
Below is my profile photo as it appears, mysteriously camouflaged, on CrazyBlindDate. Thought I'd share. Look how skinny I look!